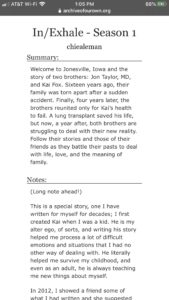 In/Exhale is now on AO3! Read it here.
If you follow me on tumblr, you may have noticed that I've been posting a lot on Archive of Our Own (aka AO3) lately. It's normally a home for fan fiction, which I have been writing a lot of in the past six months or so, but you can also apparently post original work there as well.
A friend suggested that I post In/Exhale there as another way to reach an audience. It's a bit more reader-friendly, especially on mobile, than reading on the original blog or here on my site, so in case that's turned you off of reading it in the past, or you'd like to read it again (and ebooks aren't your thing), you now have another opportunity.
I'm planning on posting the entire completed three seasons, updating weekly as much as my health allows. Once I start posting the next season (season 4), I'll probably post both on the original blog and on AO3, if it seems enough people are interested in it.
Please feel free to leave comments and kudos on the AO3 version if you decide to (re) read! I could use the motivation to get back into my original work.
Share: