UnDeniable
Picking up a few months after UnConventional, and told from Santiago's perspective, follow his life as he deals with the recession, fatherhood, and the progression of his BMD, in addition to his large and complicated family.
Genre: Contemporary, Multicultural Erotic Romance
Length: Novel
Status: On hold
Love UnSeen – NaNoWriMo 2015 Project
Blind since infancy, Jackson Santoro has everything he could want from life: his dream job as a history professor, and a quiet, idyllic house within walking distance of campus. But Jackson's sister has just gotten married, and a sudden break-in makes her realize it's not safe for him to live alone. Despite treasuring his independence, financial constraints cause Jackson to agree to a new roommate: the supposedly straight and ridiculously sexy Dan Oldendorf. Despite all logic, Jackson begins to fall for him. There's nothing harder than falling for someone you think you can't have, right?
Except Jackson soon realizes Dan is far more complex than he ever imagined, and suddenly his quiet world is turned on its head as Jackson realizes there was a lot in his own life he refused to "see."
Genre: Contemporary M/M Erotic Romance
Length: Novel
Status: Working on the first draft (about 50% done)
Five Minutes To Midnight (working title) – NaNoWriMo 2014 Project
In this twist on Cinderella, Celeste meets the sexy and mysterious Rafi just before midnight at a New Orleans New Year's Eve party and ends up with a kiss straight out of the storybooks. But when he disappears without a trace, she realizes she knows nothing about him–not even his name–because the music was so loud they didn't exchange a single word.
Later, Celeste drops by a local bookstore and discovers the reason for Rafi's silence: he's Deaf. Initially afraid of attempting any kind of relationship with such a daunting communication barrier, Celeste flees, but she finds herself drawn back to the connection they made that fateful night and the kiss they shared.
Despite coming from a hearing family, Rafi is Deaf with a capital "D" and has never tried dating a hearing girl. But after his messy breakup with his former fiancee, being with someone outside the small Deaf community is appealing. But Celeste doesn't sign, and Rafi doesn't read lips. Can they make things work? They won't know unless they try.
Genre: Contemporary, Multicultural Erotic Romance
Length: Novel
Status: On hold
Az Monster (working title) – NaNoWriMo 2012 Project
Life isn't a story. It's all about not knowing what happens. You just have to do your best.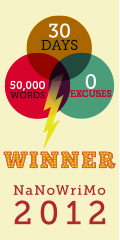 Writer, widower, and severe asthmatic Samuel Greco has returned with his six-year-old daughter to the small Southwestern town where he grew up, hoping for a fresh start. Dr. Morgan Campbell, his physician and neighbor, a fan of Samuel's fiction, finds herself becoming close to the duo, but she and Samuel must battle both current demons and the shadows of their pasts if they hope to have any kind of future together.
Genre: Contemporary Chaste/Clean Romance
Length: Novel
Status: On hold
Read an Excerpt.
Beauty in the Remnants (working title) – NaNoWriMo 2013 Project
The story is in the broken pieces. Beauty is in the remnants.
Mike D'Amico has worked at The Grind coffee shop for nearly fifteen years. For nearly that long, he's been desired by men for his statuesque beauty. With thirty around the corner, Mike begins to reevaluate his life. Can he be more than just a pretty face?
Marshall Guidry is a realist. Injured severely in a car accident when he was fifteen, he knows what he is–a nerdy, gay man with a limp in badly need of a second hip replacement–but he's still more interested in anonymous casual sex–even if it's not always easy to come by–than a relationship.
Until he meets Mike and takes him home. Not just one night, but two, then three. . . . Soon, Marshall discovers he's letting his guard down, and his time spent with Mike is becoming about more than just sex.
Together, the two men embark on a journey of self discovery in order to overcome the shadows of their pasts and carve out a new future.
Genre: Contemporary M/M Erotic Romance
Length: Novel
Status: In the early planning stages.