Right now I am only writing Black Butler fan fic, and only posting on AO3 under the user names chiealeman and plague of insomnia. I also post Black Butler-related stuff on my tumblr, http://plague-of-insomnia.com, and that is where you can find the regular update notifications.
For the most up-to-date list of my Fan Fic, please go to AO3 above or my Fan Fic page on my tumblr.
Posting Every Other Wednesday: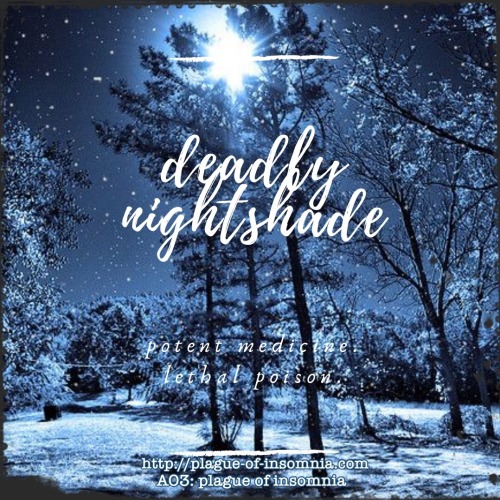 Deadly Nightshade – read: https://archiveofourown.org/works/18502054
Summary: January 1893. A brutally cold winter that leaves Ciel gasping for breath night after night. As Sebastian and Ciel begin to realize their relationship is changing, the Queen asks them to investigate a series of strange deaths. Apparent suicides, each body is marked with the same symbol as Ciel's brand. The duo embark on a dangerous investigation that will lead them to discover who was behind the twins' abductions and the true nature of the mysterious cult.
Coming Soon:
AU – The Circus (working title)
AU – Untitled Vampire Story