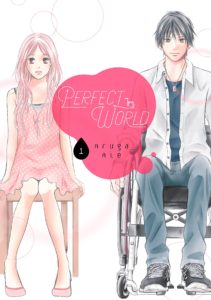 Title: Perfect World
Author: Rie Aruga
Available Digitally?: Yes
Genre: Josei (Romance) Manga
Series Complete?: Ongoing
Final Verdict: Buy
Preview?: Read the first chapter here.
My take: A surprisingly heart-wrenching, realistic exploration of romance with a paraplegic.
I've been reading a lot of manga lately, because I've missed reading so much over the past four years (due to my constant headache), and the advantage of graphic media is there's less text (and thus less eye strain), yet I can still enjoy stories. I've fallen in love with manga in particular because it's long enough to tell a meaty story and it's serialized, and I hate having to say good-bye to my favorite characters.
I was pleasantly surprised when I stumbled across Perfect World, a manga about a young woman (Tsugumi Kawana) who runs into her high-school crush (Itsuki Ayukawa) and is surprised to find out they not only work in the same industry (he's an architect and she's an interior designer), but that he's now a paraplegic. Continue reading →
Share: