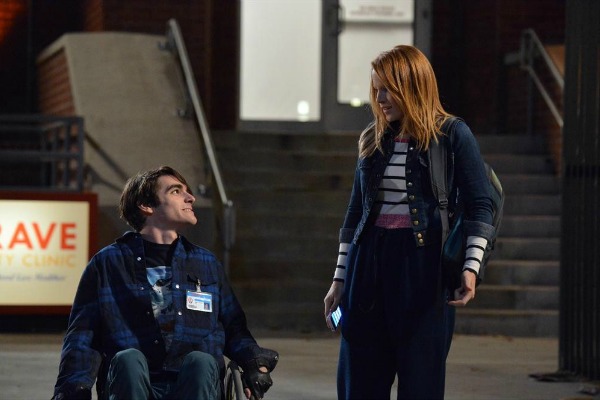 Switched at Birth is one of my favorite shows, partially because it not only features Deaf and hard of hearing actors playing Deaf and HOH characters, but also because it attempts to realistically portray elements of Deaf culture and community, along with challenges that Deaf individuals face every day (including occasional clashes with hearing culture).
The new winter season kicked in last night, introducing some new characters, including Campbell, played by RJ Mitte (of Breaking Bad fame). Campbell is a second-year pre-med student who volunteers in the health clinic where Daphne is doing her community service. He's also a paraplegic.
Of course, I had read about RJ Mitte's character during the season break this fall, but it was fun to see how the show actually handled the character. For one, he hasn't been shoved into some bulky, unrealistic folding wheelchair but appears to have a sturdy-frame one that fits him. It's also bright yellow (and decorated, which fits his crazy character), which I love. It's good to see that Switched at Birth may educate the public about SCI in the same way it has deafness and Deaf culture.
For example, in one scene (watch it here), Campbell offers Daphne a ride. Confused, Daphne responds, "In your lap?" Campbell laughs it off and indicates his car. "No. In my Camaro." She asks how he drives, and he explains hand controls as he transfers and dissembles his chair, all the while talking about the various injuries he received over the years from his wild lifestyle.
It's a short scene, but it does so much in such a short amount of time. Though Mitte, of course, is not a paraplegic (it's a bit of a shame they couldn't cast a real para actor, but I understand he has a certain amount of star power), the scene still manages to portray a tiny slice of life for a para in a fairly seamless way. I know we'll see more of him as the season progresses, and I hope the show continues to impress.
It's about time we started seeing more actors with disabilities being cast, but also seeing their stories.
Share: